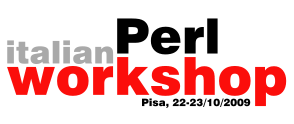 The fifth edition has ended!
The fifth edition of the Italian Perl Workshop was held on October 22 and 23, 2009 at the Research Centre of the CNR, in Pisa. The workshop is the main Italian conference about Perl and related technologies.
This year was another great success: 2 days of conference with free attendance, 2 concurrent tracks (3 on the first day), more than 30 talks from 20 speakers and a good international attendance. Among the guests there were Tim Bunce, Mike Whitaker (Penfold), Jonathan Worthington, Thomas Fuchs and Amy Hoy.
The workshop was also the occasion to create the Perl.it association.
All of this was made possible thanks to the attendees, the sponsors and the patronage. A big thank you also for everybody who helped the organization of the event!