Rīga essentials
Riga is the capital of Latvia and the biggest city in Baltic States. It is also considered cultural and financial centre of these states. Its population is approx. 700 000.
Historical centre (Old Town; Vecrīga in Latvian) is a UNESCO World Heritage Site.
Time
Riga and the whole Latvia live in Eastern European Time (GMT + 2; GMT +3 in summer) and uses Gregorian calendar.
Getting to Riga
Riga is the home of AirBaltic company which operates in many directions connecting Riga with European cities.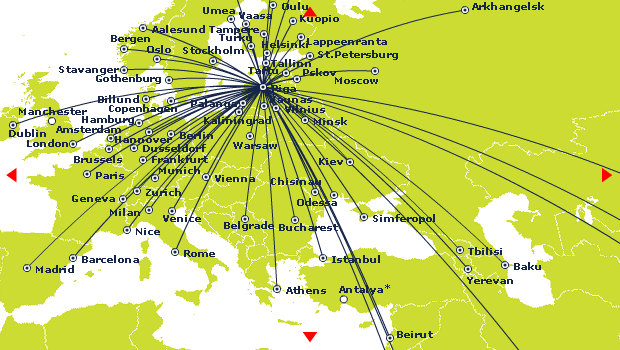 It is also possible to fly from Lisbon via Barcelona or London.
Besides, a number of other companies have their flights to Riga: AZAL, Aeroflot, Aerosvit Airlines, Air Astana, Alitalia, Armavia, Austrian Airlines, Belavia, Brussels Airlines, City Airline, Continental Airlines, Czech Airlines, Delta, Finnair, Georgian Airways, KLM, LOT, Lufthansa, MALEV, Norwegian, Rossiya Airlines, Ryanair, SAS, Spanair, TAROM, Turkish Airlines, United, Uzbekistan Airways, Wind Jet and Wizz Air.
Airport
Riga International Airport (IATA code: RIX) operates the flights to 82 destinations. It is close enough to the city center: it is about 20-25 minutes by taxi. There are also buses connecting the airport to the city.
Taxi from the airport costs 8-9 Lats (11-13 Euro) and you may buy a green voucher at the exit of the airport or (1 Lat cheaper) during the flight with AirBaltic. With these voucher (valid for unlimited period) you will be delivered from the airport to any part of the city.
Public transport


Explore the hotels in Riga.
Riga public transport system includes trams, trolleybuses, buses, all covered under "Rīgas satiksme" LLC.
There are different types of tickets: the more you buy the more you save. There are tickets for particular number of journeys, as well as for the given number of days; some of them are valid for every transport type.
Tickets with unlimited number of journeys, prices in Latvian Lats and Euro
24 hours, any transport
1.90 Ls
≈ 2.70 €
3 days, any transport
5.70
8.00
5 days, single route
4.20
5.88
5 days, single transport
6.00
8.40
5 days, two transports
7.00
9.80
5 days, any transport
9.50
13.40
Tickets with limited number of journeys
Single journey
0.50 Ls
≈ 0.70 €
5x
2.50
3.53
10x
4.75
6.70
20x
9.00
12.60
Food, beer and balsam
Central Riga (Old Town) is full of pretty cafes and restaurants. Our pre-conference meeting will be held in the open air cafe at Doma laukums (Dome Square). 500 ml of beer cost about 2 Euro.
Some people even write a summary of their "food travelling". And a tip for every tourist: you have to buy legendary Riga Black Balsam.
Mobile phones
Local mobile operators LMT, Tele2 and Bite offer SIM cards which are suitable for foreigners willing to have local phone number for a few days only.
Or you may buy AirBalticCard either in the airport or when flying with AirBaltic, which gives Estonian number (+372) and cheap international calls.
International phone code of Latvia: +371.
Safety
Riga is relatively small town and is quiet and safe. It also attracts tourists; the conference venue is located close to the central part and Old Town so no troubles are expected.
Money, currency and credit cards


Find out how Latvian currency looks like.
Official currency is Latvian Lat (code: LVL, symbol: Ls). Up to date exchange rates are listed on a special page.
ATM machines can be found everywhere, starting from the airport: in hotels, on the streets, and in large stores. Credit cards are widely used.
Riga sightseeing
It is warm enough in Riga (16.5 ºC average temperature) in August to both walk inside Old Town and use open yellow bus tours.
The most attractive for tourists is, no doubt, Old Town (Vecriga in Latvian). It is better to explore it by walking. It would be also wise to find a hotel in this area to feel the spirit of the town.
Yellow bus service offers hop-on/hop-off tickets and several different routes which cover the most of what a tourist would like to see.
The city itself is separated by Daugava river: the venue and the Old Town are on its right side. Most of historical monuments and museums are there as well.
Just to list a few most important touristic places inside Old Town.
Riga Castle;
House of the Blackheads;
Riga Cathedral;
Swedish Gate;
Powder Tower;
St. Peter's Church;
"Three Brothers" — historical buildings in the center.
And outside of it:
Freedom Monument;
National Opera;
Laima Clock;
Jewish Museum and Cultural Center;
Riga Radio and TV Tower;
Navity Cathedral;
Mentzendorff House;
Bastejkalns;
Art Noveau Buildings;
Latvian Academy of Science;
Esplanade Park.
The building of Academy of Science is interesting by itself as it is the one of the series of Stalin's skyscrapers, others may be found in Moscow and Warsaw.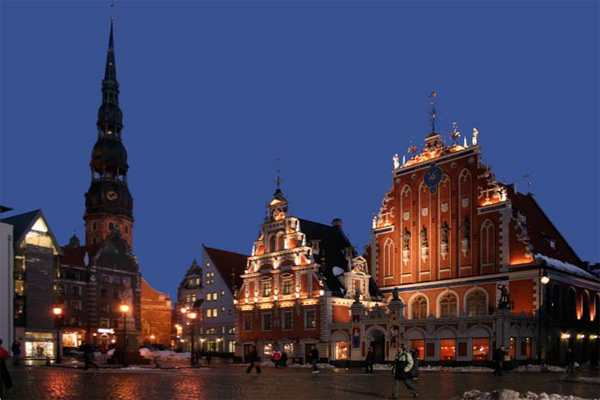 Visas issues
Latvia is both in the EU and Schengen area, thus no visas are required for most of the attendees.
Languages in Riga and Latvia
Official language in Latvia is Latvian. But people living in Riga are often bilingual and speak both Latvian and Russian (or at least understand one of them). Most of the younger people speak English. Most of elderly people speak Russian.
Latvian language uses latin alphabet (with a few diacritics) so it will be easy for English speaking people to navigate in the city. We also provide one or two survival phone lines served by our volunteers.