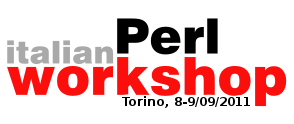 Sixth edition is over
On September 8th and 9th 2011 the sixth edition of the Italian Perl Workshop was held at the Department of Computer Science of the Turin University in Torino (Turin). The conference is dedicated to the Perl language and related technologies.
The (free) event last for 2 days, with 2 concurrent tracks (and also the Perl course on September 7th), more than 30 talks in Italian and English, more than 100 attendees and 16 sponsors. We had international guests such as Matt Trout (mst), Damien Krotkine (dams) abd Ingy döt Net. And yes, the legendary coffee break tradition keeps on!
All of this was possible thanks to attendees and sponsor. Thank you very much also to everyone who helpted in organizing the event!
To always be up to date regarding our future events, please subscribe to the Perl.It Twitter feed!